Sony UBP-X800M2 Setup for Best Audio/Video Using a Sony Display or Projector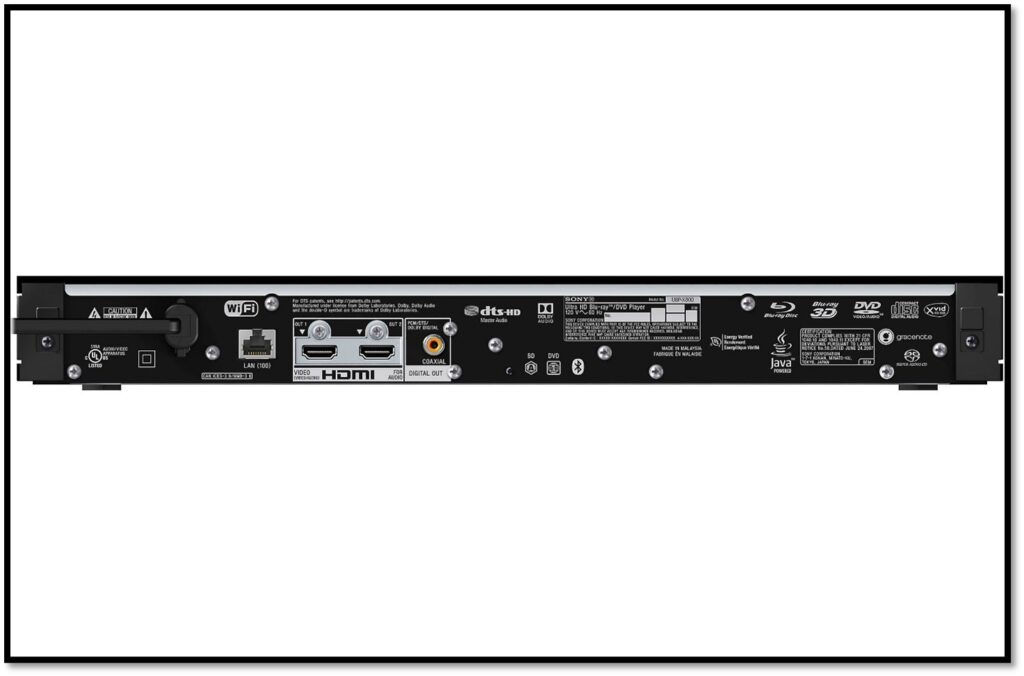 RS-232 for Home Automation (Smart Home Control)
Pair of RCA Outputs

That would be good for 2-channel audio and/or adding the player to a matrix audio switch for distributed audio/video systems with separate amplification.

Added Optical Output for (Dolby Digital/DTS) "Not Dolby Atmos/DTS:X"
Sony ES 3 Year Warranty
Audio/Video quality, the same.
Audio Features:
Dolby Atmos
DTS:X
Hi-Res AUDIO
Video Features:
Setting up the 4K Ultra HD Blu-ray Player from a Home Theater or Media Room Prospective
Connected to a 4K HDR TV and going through a Dolby Atmos/DTS:X AVR (Audio/Video Receiver)
Make sure your HDMI cable can support 18Gbps!!!
Video Settings:
BRAVIA Mode:

Set to On for 4K TV's that do not support Dolby Vision

This will turn off Dolby Vision and set 4K Upscaling to *Auto 1

*Auto1: Outputs 2K (1920 × 1080) video signals during video playback and 4K video signals during photo play when connected to a 4K-compatible device made by Sony. Outputs 4K video signals during playback of 24p video contents or photo play when connected to a non-Sony 4K-compatible device. This setting does not work for 3D video image playback.
Auto2: Automatically outputs 4K/24p video signals when you connect a 4K/24p-compatible device and configure the appropriate settings in [Network content 24p Output]. Also outputs 4K/24p photo images when you play 2D photo files.

Set it to Off for TV's that support Dolby Vision

HDR Output:
Dolby Vision Output:

If you are watching a movie mastered in Dolby Vision, you will need to manually turn this On before watching that movie. Otherwise, turn it Off. Look on the back of the 4K Ultra HD Blu-ray package to see if it supports Dolby Vision.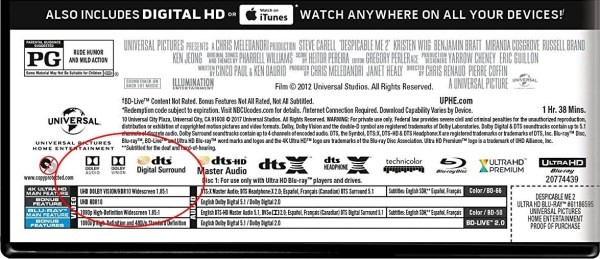 Display Type:
Output Video Resolution:

You can have this set to Auto; however I have set mine to 4K.

24p Output:
4K Upscale Settings:

Off – The 4K Ultra Blu-ray Player will not do the upscaling to 4K, your TV will do the upscaling. (Non-Sony TV)
Auto 1 – The TV will do the upscaling to 4K. Additionally, the 4K Ultra Blu-ray Player will upscale lower resolution content to 1080p and pass native 1080p content to the TV to upscale to 4K. (Sony TV)

My player was connected to a Sony XBR-85X850F, so I set mine to Auto 1

Auto 2 – The 4K Ultra Blu-ray Player will do the upscaling to 4K. (Sony TV)

YCbCr/RGB:
HDMI Deep Color Output:
IP Content NR (Video for Internet Content):
3D Output Settings:

Off, however On if you have a Sony 3D TV or Projector.

TV Screen Size Settings for 3D:

Set the size of the screen if you have a 3D TV or Projector.

TV Type:

Should be 16:9… its 2021 already.

Screen Format:

Normal so you don't stretch out the image for non 16:9 content.

DVD Aspect Ratio:

Letter Box… just in case you are using a 4:3 screen… again, its 2021.

Cinema Conversion Mode:

Auto and let the player detect film or video content.

Pause Mode:

Auto Dynamic picture shows without blurring.
Frame Static picture in high resolution.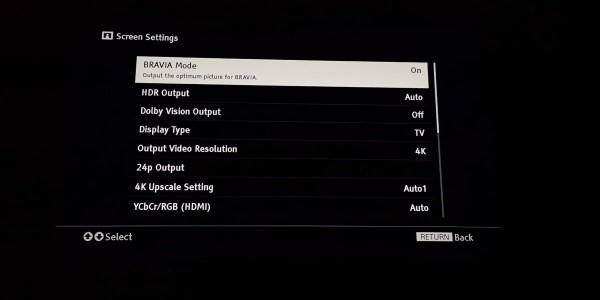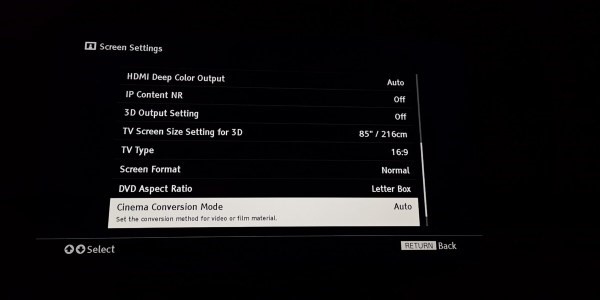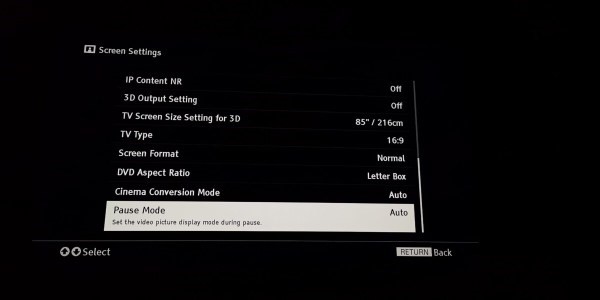 Additionally, if you are using a Sony 4K TV, make sure you are using HDMI 2 or 3 that supports 4K 60p 4:2:0 10bit, 4:4:4, 4:2:2.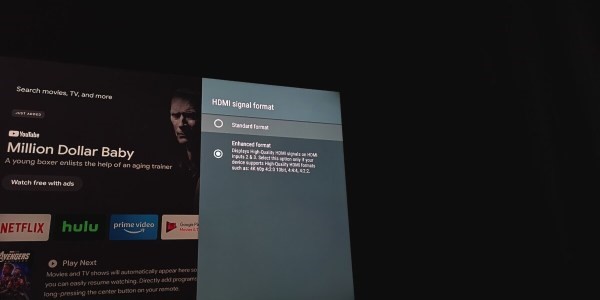 Audio Settings:
Digital Audio Output:

Auto (This will Bitstream the signal to the AVR for Dolby Atmos and DTS:X.)

DSD Output Mode:

Off (Direct Stream Digital. It's a high-resolution format that produces a high-resolution signal in a different way to that employed by the PCM system that can be transmitted as WAV, FLAC, ALAC or AIFF. Instead of using many bits of information in the signal, DSD uses a single bit.)

BD Secondary Audio:
DTS Neo:6

Off (DTS Neo:6 is a surround sound processing format designed to enhance the listening experience in a home theater environment. When playing a CD, vinyl record, or a DVD with a soundtrack that only provides two channels of information, DTS Neo:6 can expand the sound field to 6.1 channels.) We are using Dolby Atmos and DTS:X.

48kHz/96kHz/192kHz:

Doesn't matter because we are not using PCM, we are using Bitstream or Auto.

DSEE HX:

Off (Software upscales your existing sound source (those lossy MP3s or AACs) to near high-resolution sound quality. This means that the technology injects more life into your music by upscaling compressed files. So, it restores the subtleties of the original song recording.)

Audio DRC:

Off (Dynamic Range Control works only for Dolby Digital and DTS. It compresses dynamic range so there is less range between quiet and loud passages. In theory will make your loud scenes (commercials) less loud while making soft dialog louder.)

Downmix:

Because we are suing Bitstream or Auto on the Digital Audio Output, these changes will not affect the Dolby Atmos or DTS:X settings.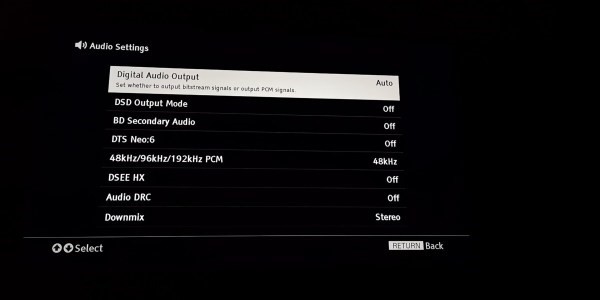 With these settings in place in a home theater or media room environment, you should get the most out of you Sony 4K Ultra HD Blu-ray player. Like always, confirm your settings.
Press Display or Info on your TV remote to see that you are getting full resolution when watching a 4K Ultra HD Blu-ray Disc.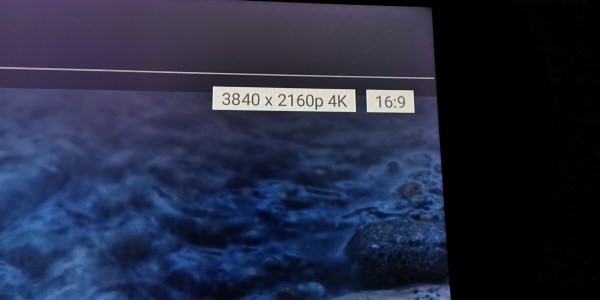 Press Display or Info on your AVR remote to see that you are getting Dolby Atmos or DTS:X from your source and that your AVR is outputting Dolby Atmos or DTS:X.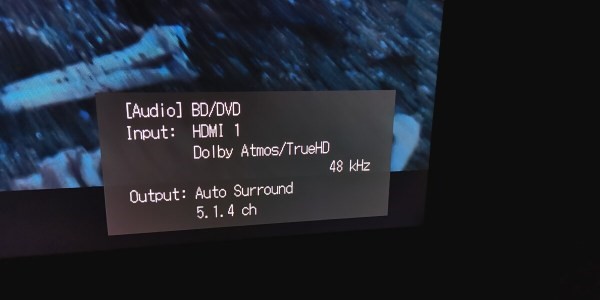 Press Display on the Sony UBP-X800M2 remote control to see the audio/video information is on the disc and what the 4K Ultra HD Blu-ray Player is sending out to the AVR and the TV.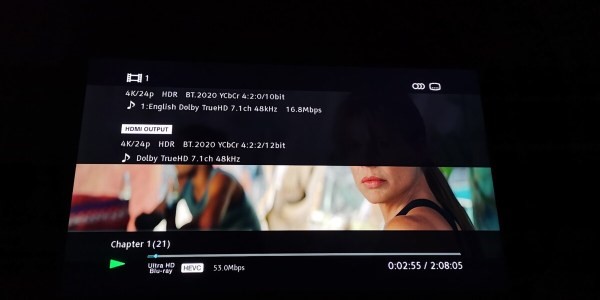 *There can sometimes be confusion with what I call, "Hidden Audio Information" when seeing the information from your devices. For example, the movie Terminator Dark Fate shows Dolby TrueHD 7.1, however Dolby Atmos is "in" Dolby TrueHD, thus the AVR showing Dolby Atmos/TrueHD and outputting "in my case" Dolby Atmos 5.1.4. We all wish it would just say, Dolby Atmos or DTS:X.