Roku Ultra LT/Roku Ultra Differences
Roku Ultra LT, or Roku Ultra Lite. (2020-2021)
What are the differences?
The (3) main differences with a bonus (1) additional "not so important" feature would be:
Roku Ultra Adds:
Additional GB of RAM (Makes the Roku Snappier)
Dolby Vision… Isn't Dolby Vision High Dynamic Range?

Yes, however Dolby Vision is the highest possible "version" of HDR.
HD or High Definition can support the color gamut of Rec. 709, HDR10 can support DCI-P3 "which 4K Blu-ray movies are released in for the home", however Dolby Vision can support up to Rec. 2020.

*Current Movies in Rec. 2020

Pixar's Soul
The Lego Batman Movie
Disney Inside Out" The Subconscious Scene with Jangles The Clown"
Guardians of the Galaxy Vol. 2 "In Dolby Theaters, however down converted to DCI-P3 when released on 4K Blu-ray Disc."
HLG or Hybrid Log-Gamma

HLG is backwards compatible HDR that can run on SDR TV's that are not HDR compatible. It would sit in-between SDR and HDR. Additionally, it is part of the ATSC 3.0 standard which is the next generation terrestrial broadcast system designed from the ground up to improve the television viewing experience with higher audio and video quality. DirecTV and YouTube also support HLG.

USB Port for Removable Media.
Settings for the Roku Ultra LT
Video:
First, the receiver is plugged into the Sony TV's HDMI 2 or 3. This is because those HDMI ports support Enhanced Format (18Gbps) and the Roku Ultra LT supports 4K 60p.
Second, you will want to make sure the TV is set to accept HDR.

For Sony TV, go to Settings Gear Icon, Picture & Display, Picture Adjustments, Advanced Settings, Video Options and set HDMI Video Range, HDR Mode and Color Space to Auto.

You will see manual adjustments there as well to lock the TV into HDR10 or HGL. Additionally in the Color Space section, you can lock it into Rec. 709, DCI-P3 and even Rec. 2020. This is good for testing and "confirming" your HDR settings from the source and not relaying on Auto settings from the TV. However, Auto should get the Metadata to use the HDR mode and the Color Space the source is using.
Third, receivers should support 4K 60p Ultra HD Passthrough with HDR10, Dolby Vision Compatible. You want to make sure the HDMI ports "if you're going to be passing your devices through them" are HDCP 2.2.

Video Features:

Ultra HD Pass-through with HDCP 2.2 (4K/60p/4:4:4/24-bit,
4K/24p/4:4:4/36-bit, 4K/60p/4:2:0/36-bit) HDR10, HLG and BT.2020 Wide Color Gamut Signal Pass-through. All HDMI Inputs, however the front Input and HDMI 5 and 6 does not support these features.

HRD10+

HDR10+ provides for scene-by-scene adjustments for the optimum representation of contrast from the HDR source content. Being an open format, it's license/royalty free and therefore easily adoptable by manufacturers and content producers with quality maintained through a HDR10+ certification and logo program.

Fourth, when originally setting up the Roku Ultra LT, having the device set to Auto Detect is fine when down loading and setting out the app. However, once done I set "lock" the Roku Ultra LT to 4K HDR 60Hz TV.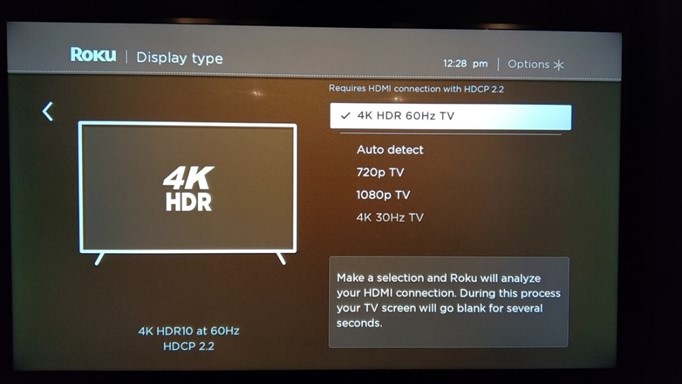 Not including screen calibration, these settings will ensure you are getting the best picture performance from the Roku Ultra LT.
Audio:
With any Home Theater or Home Media Room experience, the audio is just as and if not more important to enjoying the cinematic experience!
With the Roku Ultra LT, you may start going a little crazy looking for Dolby Atmos settings to get that audio decoding to your AVR (Audio/Video Receiver). No worries!
First, go to the Roku settings, select Audio, then go down to Audio Mode, and checkmark Auto (Dolby DD+, DTS). The Dolby Atmos track is in the DD+, however it is not labeled that way.
Second, stream away! Login to Disney+, Vudu, or Netflix and look for that Dolby Atmos title to test on your AVR!

Disney+ (Avengers: Infinity War or Avengers: Endgame)
Vudu (Spiderman Far from Home, Terminator Dark Fate)
Netflix (The Irishman)