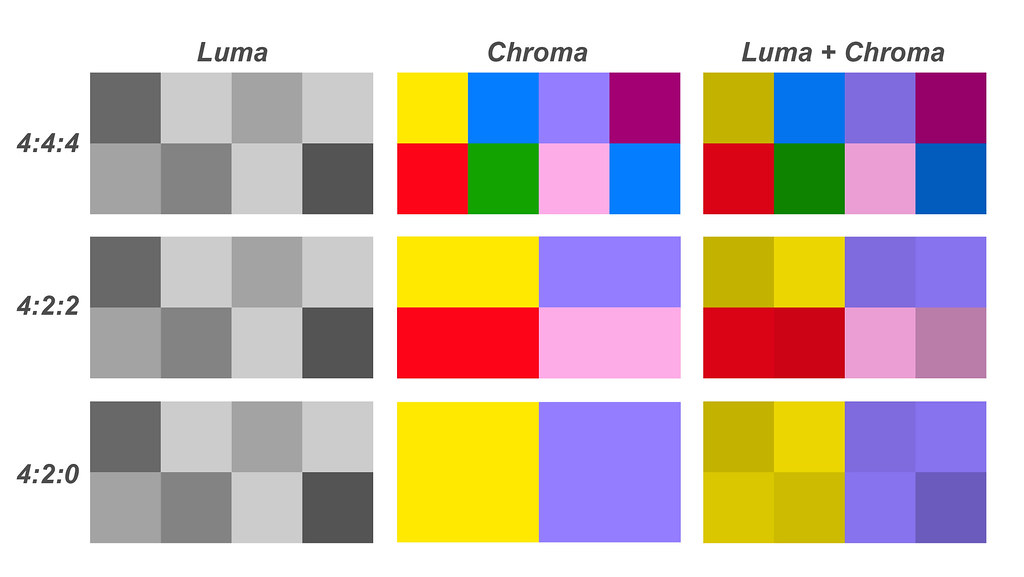 Chroma 4:4:4, 4:2:2 and 4:2:0 From a Home Theater/Media Room Perspective (2020-2021)
What is Chroma Subsampling?

Chroma Subsampling is compression that reduces the color information in a signal in favor of *luminance data. This reduces bandwidth without significantly affecting picture quality.

*Luminance Data is used to measure the amount of light emitted from a source such as a TV or Projector. As you can see below, Luminance or Luma does not change in Chroma 4:4:4, 4:2:2 or 4:2:0.
So in essence, Chroma Subsampling is reducing the amount of color in favor for more brightness coming from your TV or Projector.

How is Chroma Measured?

Chroma on TV's and Projectors are measured by a 4:2 grid (4 cross and 2 high).
What does Chroma Subsampling mean on my TV or Projector?

4:4:4 (Every Pixel has its own Chroma Sample)

Higher Bit Rates
Uncompressed and Best Picture Quality
4:2:2 (Every Other Pixel is Duplicated)

Smaller Bit Rates
Compressed and Better then Good Picture Quality
4:2:0 (Bottom Pixels are Duplicated to the Top Pixels)

Smallest Bit Rates
More Compressed and Good Picture Quality
Chroma + Luma:
So in the end, what does this all mean? We all want the best picture quality our expensive home entertainment system can give. Apple TV 4K even has an option to go from 4:2:0 to 4:2:2.
DVD, Blu-ray, 4K UHD Blu-ray, Netflix, YouTube, Hulu and so on all encode down to 4:2:0
PC and Video Games are currently the only sources able to take advantage of 4:4:4

Apple TV 4K option for 4:2:2 will improve the GUI (Graphic User Interphase) and you can play Video Games on it. Probably why the 4:2:2 option is there.
So from my opinion, keeping your devices (DVD, Blu-ray, 4K UHD Blu-ray and Apple TV) at 4:2:0 is the native signal and should not be altered from a Home Theater and Media Room perspective.
High Level Answer:
Do you only use your TV or Projector for watching Movies and TV?

Then No, you do not need to set your Devices and TV/Projector to 4:2:2 or 4:4:4.

Do you use your TV or Projector as a PC Monitor or play PS5 or XBOX One X?

Then YES, set your devices and TV/Projector to 4:2:2 or 4:4:4 if available.

18Gbps HDMI Cable is needed for this.