Future Automation offers nine different options for in wall storage boxes or wall boxes. We will focus on two newly designed models: WB80 and WB-2S.
The WB80 is designed to accompany the Future Automation PS80 TV swivel mount. This in-wall box will allow for a near flush fit of your TV and will accommodate the installation of a power supply, and connection points to be discreetly concealed behind the TV within a closed off dedicated panel space. Ideally, it is installed at the first fix stage, which ensures the TV's correct positioning and makes sure that no other utilities are placed in the way.
The redesign of the WB80 was based on dealer feedback so that it is easier to transport to a job site and incorporates additional mounting points for AV hardware.
WHAT'S NEW?
Easier to carry to the job site with less risk of damage
Quick and easy one-person assembly
Additional mounting points for AV accessories
3x pairs of accessory mounting clamps included
Reduced packaging volume making it easier to transport
Less space needed to store before installation
WHAT'S THE SAME?
Product dimensions
After assembly, the installation process is identical
Weight capacity – 120kg (265lbs)
Cable management locations
Trim panel covers
Identical structural rigidity from the redesigned central plate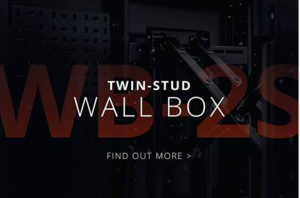 The new WB-2S is a Twin-Stud Wall Box which comes in three different heights (21″, 26″ and 31″). These heights match the Single Stud WB range. The WB-2S gives users room to mount a PS Bracket and additional AV hardware inside the wall box and still get the TV flush against the wall.
WHAT'S COOL?
Designed to mount in a twin stud bay between two studs
Twin stud box allows for even more storage space over the standard WB
Increased lateral adjustment up to 146mm (5.75") on either side
Screen mounting enables fast and easy one-person fitting, even with larger screens
The accessory plate can be hinged forward and/or removed with no tools for easy access to equipment or cabling
Metal edge trims offer a cleaner finish around the installed wall box